Don't Rule Out Much Higher Oil Prices
Justin's note: Today, I'm sharing a very timely essay with you.
It comes from my good friend Ben Morris. Ben writes DailyWealth Trader, a popular financial advisory for Stansberry Research. He's also one of the brightest traders I know.
Below, Ben explains why the price of oil could continue to soar. As I showed you a couple weeks ago, I too think oil and oil stocks are about to rip much higher. This is a huge idea and I encourage you to read this essay closely…
---
By Ben Morris with Drew McConnell, DailyWealth Trader
It's in your car…
It's in your kitchen cabinet…
We use it to build roads and to make chemicals…
Once you know all the ways it's used, you'll see it everywhere. And you'll know that it isn't going away anytime soon.
We're talking about crude oil…
Crude oil is one of the most widely used natural resources in the world. It's refined into gasoline, jet fuel, heating oil, and other petroleum-based products. Some of these are then used to produce asphalt, plastics (like food containers and water bottles), and industrial chemicals.
Oil is a major part of our daily lives.
But recently, oil experienced a brutal bear market. Prices plunged. Oil companies went bankrupt. And people are talking about the "end of oil." This idea is likely premature…
Today, we'll look back at history to see how oil and oil stocks performed after similar dramatic declines.
Let's start by looking at oil's biggest drops over the past 30 years. As you can see in the chart below, the price of oil plummeted more than 50% five times…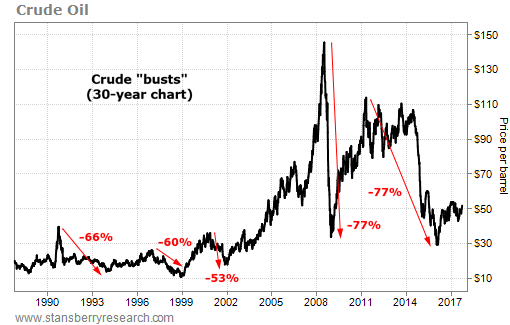 Since 1987, there's been a 66% drop, two 50%-plus drops (the 60% drop is rounded up from 59.7%), then two 77% drops.
Following these declines, oil staged monster rallies. In the chart below, you can see that only one previous time stopped shy of 100%…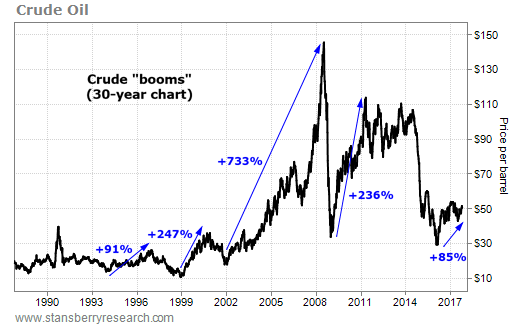 Before the most recent 50%-plus drop, oil's rallies averaged 327% of its lows. Even if you take out that early-2000s move of 733%, the remaining three booms still average 191%.
In the recent bear market, oil fell 77%. It is already up 85% from its February 2016 low. But based on history, if oil has an "average" run (of 191%), that would mean another 57% gain from today's levels. And a bigger gain (327%), would mean 130% gain from here…
Next, let's look at how big oil companies fared versus smaller oil companies…
The Energy Select Sector SPDR Fund (XLE) is a good representative for "Big Oil." Its top 10 holdings – which make up 72% of the fund – all have market values of more than $34 billion. They include decades-old companies like ExxonMobil (XOM), Chevron (CVX), and Schlumberger (SLB).
XLE started trading in the late 1990s… So we can't look back at all the booms and busts. But we can see how Big Oil performed after the more recent busts…
Big Oil companies often took longer to bottom than oil. Oil prices bottomed in late 2001 and turned higher. But XLE did not bottom until 2003 before it started its next rally, for example. The same is true for its December 2008 lows (XLE bottomed in March 2009).
Interestingly though, the recent lows of oil and XLE were much closer together.
The other point of interest is that oil's gains and losses were greater than XLE's during the last two bear and bull markets. Oil is more volatile than the Big Oil firms.
Now let's compare that with the SPDR S&P Oil & Gas Exploration & Production Fund (XOP). XOP is a good representative of smaller oil companies. Its top 10 holdings – which make up 22% of the fund – range from $1.4 billion to $28 billion. Its top holdings include lesser-known names like Carrizo Oil & Gas (CRZO), Whiting Petroleum (WLL), and SM Energy (SM).
XOP has only been around since 2006. But we can easily see that, as we would expect, it has been more volatile than XLE…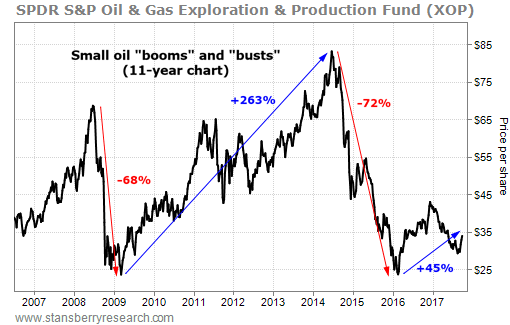 Smaller oil companies are usually more leveraged to the price of oil. So when prices rise, their profits explode. But when prices fall, their profits implode.
In the last bull market, "small oil" outperformed Big Oil by 97 percentage points. But it also dropped 23 percentage points more during the last bear market.
We now know that after 50%-plus drops in oil, it typically soars hundreds of percent. So far, it's up 93% off its February low. And unless we stop driving, flying, heating our homes, and using plastics, oil will likely continue to rise.
If it does, we also know that small oil companies are more volatile than large ones… So they're likely to rise more.
Regards,
Ben Morris with Drew McConnell
Justin's note: Ben says one business model in the oil industry isn't like most others. Companies in this sector can make good money if oil prices stay low… And they can make a lot more money if oil prices rise. He just showed readers why this sector is primed to move higher…and recommended one of the leaders in this group of companies. With the current setup in oil, this is one of the best places to invest.
You can access the name of this company—and all of Ben's research—with a risk-free trial subscription to DailyWealth Trader. Click here to learn more.