By Justin Spittler, editor, Casey Daily Dispatch
Do you own U.S. stocks? If so, you have to see this…
The chart below doesn't show a stock, a commodity, or even a high-flying cryptocurrency. Instead, it depicts an unstoppable trend that most investors have never even thought about. See for yourself.
You're looking at the percentage of people living in the United States who are 65 years of age or older.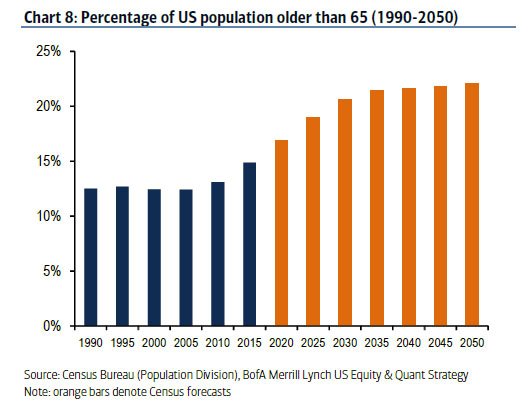 You can see that the number of seniors in the United States is about to explode.
This may not seem like a big deal to the casual observer. But it's going to have profound investment implications.
Don't just take my word for it, though.
• Two weeks ago, Raoul Pal called this "the single most important chart in the world"…
That's a bold statement. But Pal knows what he's talking about.
He used to run hedge fund sales at Goldman Sachs. He later comanaged the GLG Global Macro Fund, one of the world's biggest hedge funds.
Pal made so much money by the age of 36 that he stopped managing outside money in 2004. But he didn't completely retire.
Today, Pal writes the Global Macro Investor newsletter, one of the world's most exclusive investment newsletters. His readers include hedge fund managers, sovereign wealth funds, and pension funds.
In short, Pal is one of the world's top "big picture" thinkers. It pays to listen to him.
• So, I started researching U.S. demographics immediately after I saw this…
And it didn't take me long to realize something…
Pal isn't the only big-league investor who thinks this is a big deal.
Bill Gross is also deeply concerned about America's aging population.
Gross is one of the world's leading bond experts. He used to run PIMCO, one of the world's largest money managers. Today, he manages about $1.9 billion at Janus Capital.
In January, Gross said demographics would likely "dominate investment markets and returns for the next few decades until the Boomer phenomena fades away."
• Mark Yusko is deeply concerned about America's aging population, too…
Yusko is another Wall Street legend. He manages $1.6 billion at Morgan Creek Capital.
Like Pal and Gross, Yusko thinks demographics will drive stock performance for years to come…and not in a good way.
He thinks bad demographics will be one of three "killer D's" facing the U.S. economy. The other two "D's" are debt and deflation, which are another way of saying slow economic growth.
• These are some of the smartest investors on the planet…
They didn't climb to the top of Wall Street by thinking like other investors. They got there by being original thinkers.
And yet, they're worried about the same thing: America's aging population.
Of course, they have good reason to be.
• Just look at what happened to Japan…
Japan's population exploded after World War II.
This triggered a huge economic boom. It became one of the world's most advanced economies.
Then, everything came undone in the early '90s.
Japan's economy imploded and entered a vicious downturn.
Times were tough. So, many Japanese people stopped having children. And that's left huge scars on its society.
Recommended Link
The first major "win" for the Trump Presidency
The mainstream press hasn't written a word about HR 835… But Congress's new bill has already helped send one little-known market soaring 1,025%… And according to a Goldman Sachs insider, prices could rocket 4,900% higher in the months ahead. There's still time for you to get in – if you act before Trump signs HR 835 into law (no later than December 31). "There is a wall of money coming," says one hedge fund manager, "and we'll see an explosion in prices." Click here for the full story.
—
• Last year was the eighth year in a row that Japan's population shrank…
It was also the first time on record that less than 1 million babies were born in Japan. Meanwhile, the number of deaths in Japan hit a record high of 1.3 million.
Japan's rapidly aging population is killing its economy.
Just look at this chart. It shows Japan's annual economic output over the last two decades.
You can see that Japan's economy has barely grown. It's only 1% bigger than it was in 1997.
• Bad demographics have also plagued Japan's stock market…
You can see what I mean below.
This chart shows the performance of the Nikkei 225, Japan's version of the S&P 500, since 1997.
The Nikkei is up just 4% over this period.
In other words, Japanese stocks have been "dead money" for the past two decades.
• Now, the United States is about to get stung by the aging-population bug…
By 2030, more than 20% of the U.S. population will be at least 65 years old. That's up from about 15% today.
By 2050, the U.S. will have twice as many seniors as it does today.
And many of these people will retire. They'll stop producing for the economy.
They'll also buy fewer goods and services. That's what happens when people retire. Seniors spend about 38% less on consumer goods and services than people in the workforce.
That's a serious problem.
After all, consumption makes up 70% of the U.S. economy. So, the economy could take a major hit if millions of people start buying fewer goods and services. If that happens, U.S. stocks could come crashing down, too.
• Just to be clear, I'm not saying the U.S. will become the next Japan…
But demographics in the U.S. are certainly getting worse. There's no denying that.
And there's nothing the government can do to stop it. The trend is in motion.
The good news is that there's still time to prepare. Here's what you can do today…
Lighten up on U.S. stocks. Now, I'm not saying you should hit the panic button. But now is a good time to reduce your exposure to U.S. stock holdings.
You can start by trimming your stake in risky U.S. stocks. You should also allocate less money to U.S. stocks going forward.
Move some money abroad. Focus on countries with improving demographics. That means countries with young and growing populations. Here are three countries that check those boxes…
If you take these steps today, you'll be miles ahead of most investors.
Regards,
Justin Spittler
Denver, Colorado
September 13, 2017
P.S. I'll have more to say about this theme in the months ahead. As you'll see, an aging population will accelerate America's inevitable debt crisis. It will aggravate the country's pension problems. It could even trigger the next massive stock market selloff.
The good news is that there's still time to get on the right side of this trend. I'll show you how to do this soon.
---
Reader Mailbag
The positive feedback continues to roll in for Doug Casey and his essay on "The War on Some Drugs"…
You are so right—all drugs should be legalized. The stupid politicians and religious groups have created a nightmare situation for the world trying to enforce what people can and cannot do with their own bodies.

The solution is so simple—legalize all drugs, take the enforcement money saved, treat the addicts, and have plenty of money left over for other worthwhile projects. Then in the long run the situation will heal itself. The prison population would be cut in half, saving mega bucks.

I'm 84 years old and this solution seems so clear to me. I just don't understand why more people can't see the light. I also don't understand why more people don't write about it as you have done.

–Bill
Thank you. Very well-stated. Get on Fox or One America News and pitch it with emphasis on the financial aspect.

–Scot
I agree with Doug on the cessation of the War on Drugs. There is an important item that needs introducing into the conversation. That is for the Government to sell all drugs at cost and to have an education on drugs starting in the first grade.

This is an abnormal solution for me to introduce the government as a solution. No business in their right mind would consider selling anything at cost and the government is used to selling stuff at under cost so they are the ones to do the selling of the drugs.

This eliminates the drug lords. Even if they want to come up with a new drug, the government would simply copy it. There is no telling how many lives would be saved and also dollars.

–Harry
Great article! If you try to repeal any drug prohibition laws, only the misinformed and the illegal drug pushers will try to stop it. Much less profit if it is legal and too much competition.

–Larry
If you have a question or comment, please send it to [email protected]. We read every email that comes in, and we'll publish comments, questions, and answers that we think other readers will find useful.